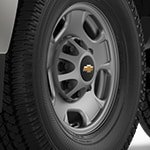 There are six inches of snow outside and the roads haven't been cleared. And to make matters worse, you've got to get to work in the morning. How are you supposed to plow through these country roads that are covered in layers of snow and ice?
Hitch up the plow and get ready to clear the roads! The Chevrolet Silverado 2500HD comes with parts and equipment that makes it easy to attach a snowplow to the front of your vehicle. You can clear the way and make the roads safe not only for yourself but for everyone else in your neighborhood.
Plus, the Chevrolet Silverado 2500HD was specially engineered to do well in harsh weather conditions, so you won't have to worry about your vehicle sliding off the road or getting stuck in the ice. Come check out this powerful vehicle today at your friendly Levelland, TX John Roley's Autocenter Levelland.