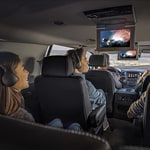 You already know that the Chevrolet Suburban is built with the entire family in mind. You will love how many features have gone into its design, including the available technology. This is really going to make each drive that you take around Levelland, TX that much more enjoyable.
Since everyone today seems to want to be connected to the Internet everywhere that they go, you will love the 4G LTE Wi-Fi system that is now available with the Chevrolet Suburban. Just subscribe to this and everyone can use their own devices to surf to their heart's content.
Passengers in the rear seat will also love having access to their own media system. This is a 12.6-inch touch screen that offers so much content it is unbelievable. Passengers can even share their own content with others in the Suburban at the same time.