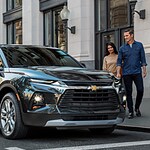 Debuting in 2018 for the 2019 model year, the Chevrolet Blazer may be new to the highly competitive midsize crossover segment. And yet, it has managed to woo customers in Levelland, TX with substantial attributes. One of those attributes is its high level of fuel economy, and that is regardless of engine. Indeed, you can maximize acceleration power on the Blazer while getting better-than-average gas mileage numbers.
Although the standard engine on the Chevrolet Blazer is a 2.5-liter 4-cylinder, you can upgrade to a larger, 3.6-liter V6, which has an output of 308 horsepower and 270 lb.-ft of torque. From the vehicle's peak of 21 mpg in the city and 27 mpg on the highway, the V6 reduces those EPA numbers to 19 mpg and 26 mpg, respectively. However, that's not a huge drop-off; the Blazer is still one of the most fuel-efficient midsize crossovers out there.
The Chevrolet Blazer is the vehicle in its class to get if you want to save money on fuel. Give us a call today at John Roley's Autocenter Levelland to set up an appointment with one of our specialists.